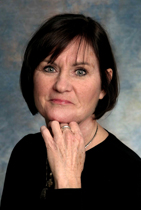 Kelly Grace Smith is a certified life coach, writer, mentor, and teacher. She has worked in the field of communications - news broadcaster, copywriter, marketing director, life coach - for more than 30 years.
In 1992, determined to pursue a dream of public service that began when she was just a junior high school student, Kelly embarked on a path of personal growth and development that included becoming what is now known as a "Life Coach" and also running for political office. In 1993 she became a personal growth and development Coach/Trainer and a newly elected member of the DeWitt Town Board.
In 1996 she became the youngest, only female, and first full-term Democratic Town Supervisor (Mayor) ever elected in the town of Dewitt, an upstate New York municipality of 25,000 established in 1835. During her tenure in office - while promoting the concepts of partnership governing and bi-partisan government - DeWitt voters, predominantly Republican, elected their first-ever Democratic-majority town board by a single vote.
While it may seem an oxymoron to say Kelly came to coaching, mentoring, and spirituality through politics, one need only read the Declaration of Independence - originally drafted by Thomas Jefferson, a deeply spiritual man - to know that this country was borne of a profoundly spiritual ideal.
As a certified life coach-consultant, Kelly has worked one-on-one with professional men and women from all across the country, as well as supported and co-facilitated two leading edge personal growth and development courses: "The Possibility of Woman" and "The Empowerment of Listening Course."
In subsequent years Kelly has worked with, studied, and/or engaged in the processes and work of: Chogyam Trungpa, Bert Hellinger, Dr. Michael J. Lincoln, Grant Freeman, Erich Fromm, Wilhelm Reich, Joseph Bortniak, Eckhart Tolle, Helen Barton, Pat Honiotes, The Hoffmann Quadrinity Process, and Huston Smith as well as a litany of other therapeutic, religious, and spiritual leaders from Soren Kierkegaard and Harville Hendrix, to Saint Therese of Lisieux and Osho.
Kelly has been a certified life coach-consultant for more than 20 years and has worked specifically as a transpersonal coach for more than 15 years. She has been a meditation practitioner since 1995. Kelly is also a Reiki Master. She received her Reiki I & II training and attunements from Manhattan Usui Reiki Master, Elke Petra Palm and her Master level training and attunements from Pat Honiotes, M.S., Phoenix, Arizona.
In 2004 Kelly began a profound transformational journey from which the body of "the work" on this site is created. She is an alchemist, Reiki Master, and spiritual, ontological, and epistemological metaphysican (the nature of the sacred, the nature of being/existence, and the nature and grounds of knowledge itself) with mastery level expertise in leadership coaching, personal evolution, energy dynamics, and several healing modalities.
The essential core of her work is the idea that "Life is the guru™."
"Life itself is the only guru you need to guide you to profound fulfillment, deep self-expression, and just plain fun and enjoyment...every day. You can live your life from suffering, struggle, and sacrifice or from humor, humility, and grace. The choice is yours.

The responsibility is yours, too. While you may also choose a powerful, enlightening relationship with God - Spirit, Jesus, Buddha, Krishna, Allah, whomever you identify with - it is the existing fabric of your own life, combined with consciousness, openness, and a desire to become more of yourself, that can propel you to more health, wealth, intimacy, fun, and joy.

This serves you, your goals, your God, and humanity."
Her work is a dynamic synthesis of simple and quantum physics, energy dynamics, transpersonal psychology, inner child work, and personal growth coaching and healing methods and modalities.
Kelly Grace Smith is also a poet and author of self-help books and articles. Her poem "white lotus III," from her collection, And So We Dance placed fourth in a field of 4,000 in the
4th Annual Writer's Digest Poetry Awards
and was subsequently included in the
2009 anthology Writer's Digest Poetry Compendium.
In addition, three of her poems "brothers," "blue lotus II," and "tee shirt" are featured in the book
Mentor's Bouquet,
an anthology of poetry published in March of 2010 by Finishing Line Press. Another poem from And So We Dance "white lotus II," appeared in
Touch: The Journal of Healing.
And her poem, "bea," appears in
Calliope: The official publication of the Writers' Special Interest Group of American Mensa, Ltd.
(Issue 124).
And So We Dance is a collection of experiential, energetic love poems...to your Self, to your Other, to your God. It is a simple and beautiful - yet powerful and provocative - tool of personal evolution. Every rhythm and rhyme, every stanza and line impacts the reader, provides an opportunity to experience insight, awareness, healing, release...authentic inner connection. It is self-development in poetic form.
Buddhist imagery, Christian symmetry, and Islam's whirling dervish energy guide the reader - again and again - through their own energetic self-actualization process.
When picked up and read spontaneously and intuitively, individual poems can provide the reader "just what they need" in the moment. When read aloud and in sequence, the poems of And So We Dance can provide powerful insight, physical release, emotional shifts, and spiritual breakthrough...immediately.
For updates on the availability of And So We Dance please contact kelly grace smith>

Her self-help books and articles are created from the topics addressed on this web siteand are "the meeting ground of science and spirituality™." Everything - from intimacy, energy, and parenting to addiction, mastery, and sexuality - goes under the microscope to see if our present paradigms, beliefs, and institutions are serving our learning, growth, enjoyment, and evolution.

The goal? More. More enjoyment, more fulfillment, more evolution, and more freedom.

To have more, be more, become more of who you are...every day.